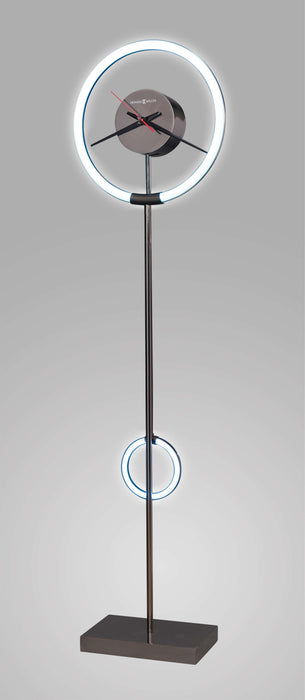 Prism Grandfather Clock
This minimalistic metal floor clock features a gunmetal finish.
The 20" round dial features an illuminated LED ring. Use the included remote control to choose from one of seven LED colors (white, red, green, blue, yellow, purple, and cyan) or choose to cycle through all the colors continuously.
LED color changing remote control features:
Color selection is made by the use of RGB LEDs (red, green, blue), which allows the light to cycle through the red, green, blue, yellow, white purple, and cyan. 
It can control the LEDs up to 50 feet away. 
Basic on/off function. 
Brightness Up/Down: adjusts the steady-on version. 
Rate Speed Up/Down: adjusts the strobe version. 
Requires three AAA batteries (not included).
The hour and minute hands are finished in black; continuous sweep second hand-finished in red. 
The pendulum is finished in polished gunmetal and features a complementing illuminated LED neon ring.
LED illuminated dial and pendulum rings are powered with an AC adapter that plugs into a wall outlet and includes an inline ON/OFF switch.
Quartz movement requires one AA-sized battery and two C-sized batteries (not included). 
Floor glides provide stability and protection on non-carpeted surfaces.
Width: 20 in .
Depth: 9.5 in .
Height: 74.75 in .
Price Levels

Quantity
Price

(3A)

1-24
$1,271.68
25-143
$1,204.76
144-500
$1,144.52
Search for another Product or Category